I've seen a number of selfie drones being released in the last twelve months. Some of them have been quite notable such as the Hover Camera and the Zerotech Dobby but the latest Wingsland S6 seems to have set new standards for the selfie drone segment altogether.
The foldable S6 looks like a pocket drone straight out of Star Wars and is packed with plenty of smart features that can rival even the best selfie drones in the market today. It does come at a steep price though — $399.99 to be exact but you get what you pay for.
And I'm not kidding when I mentioned that it looks like a gadget from Star Wars — the S6 actually has an optional detachable pellet gun that fires 8mm rounds (6 in total) for air combat matches if you have two or more of them to contest for air superiority.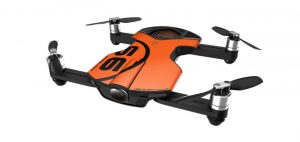 If you're not into aerial warfare, the S6 also has a host of other modules such as a search light and LED display although I'm not too sure what you'd be using these modules for.
Minus the frills, the S6 is still a very competent selfie drone. It has fold-able motor arms and propellers and is equipped with a 13MP camera with 3-axis electronic stabilizer which is capable of taking 4K Ultra HD videos at 30fps and 1080P/720P videos at 60fps for some cool slow motion videos.
When fully folded, the S6 is just slightly larger than smartphone making it very portable and easy to carry around.
It also features dual GPS/GLONASS, brushless motors, infra-red altimeter and a detachable obstacle avoidance sensor. This is quite impressive because no other consumer drone in this price range features obstacle avoidance and the S6 is probably the first to feature it.
Like many other selfie drones, the S6 does not come shipped with a conventional RC transmitter and uses a smartphone app for drone and camera control.
The Wingsland S6 can be purchased at GeekBuying for $399.99 and is available in various colors.