If you've ever had a family member, friend or loved one go missing for any length of time, you'll know just how much worry, anxiety and upheaval it can cause to those who care about them. These fears can be exacerbated when the person in question has been diagnosed with a condition such as Alzheimer's disease, dementia or autism. They may not be aware of the potential danger they could be in or they might not be able to find their way back.
For some time now, police have provided bracelets with tracking capabilities to families whose children have a history of running away from home. Such bracelets are fitted with internal transmitters which emit radio signals that the police can trace in order to help track down the runaway child.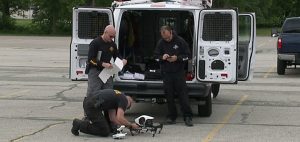 Such bracelets make up one half of the Care Trak system, which is being used for the first time by police and the Civil Air Patrol in Kansas City, Missouri. Police intend to make the bracelets available for high-risk wanderers, such as those with dementia. The other half of the system consists of a couple of drones, flown remotely by police officers.
The drones are fitted out with cameras which can use infrared technology to help spot people at night or in low-visibility conditions. Kansas City Police Captain Brad Deichler said that the drones were being tested out by trained officers in the hope that their capabilities could potentially make a huge difference in police searches. Each month, police are notified of anywhere between six and ten people with dementia or similar conditions, who go missing in the city. Now that the police department has received clearance from the FAA, it is hoped that the drones will save both time and manpower which might otherwise be spent combing through woodland in search and rescue missions.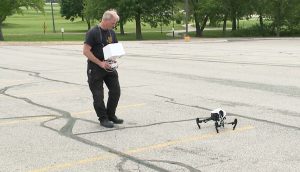 Civil Air Patrol Major Austin Worcester highlighted the potential of the Care Trak system to save lives. He said that, although Civil Air Patrol Officers are already accomplished at search and rescue missions, the technology would enhance their capabilities to locate people more quickly. Time can be a decisive factor as to whether or not someone who wanders off can be found safely before it's too late. Weather conditions can change quickly, and without water or a place to shelter, the rescue window becomes much narrower. It's in everyone's interests that the police and Civil Air Patrol have these resources that can go a long way towards saving lives.
As drones became commercially available, many initially wondered what their purpose was and why they were needed. After being fitted with cameras, they quickly became popular with aerial photographers, especially for realtors who wanted to get better photographs of properties from different angles. From there, they have developed into drones which the masses can use to take more interesting selfies, and now they are being put to good use by our nation's security forces in order to save lives.