For some time now, the Syma X8G has been a popular option for those who want to lift GoPro-size action cams without having to spend a lot of money on aerial photography drones such as the DJI Phantom 3. The X8G has a very attractive price for what it can do and it is also reasonably reliable but if you think it looks dull and boring, you might just be right.
Enter the X102H — MJX's latest 360-size GoPro lifter that competes directly with the Syma X8HG (the latest version of the X8G). The X102H not only matches the X8HG in terms of features, it also makes the X8HG look like a trusty old Toyota.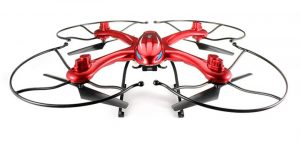 The X102H is one of those few toy drones to feature inverted motors, like what you see on the EHang Ghost Drone 2.0. Although this setup may seem awkward to some, inverted motors actually produce more thrust than upward-facing motors. This is because, in an inverted setting, the motor arms do not get in the way of the air that's being pushed downwards by the propellers.
Specifications
Dimensions: 470 x 470 x 165mm (without prop guards)
Platform: Quadcopter
Diagonal motor distance: 360mm
Flight features:
Altitude hold
Headless mode, One key return
Motor start button / Auto take-off and auto land button
2 flight speeds (High and Low)
Propulsion: 15mm coreless (motors) / 6-inch propellers
Weight: 421g (with battery / without camera, prop guards and camera mount)
Battery: 7.4V 1200mAh 2S Li Po
Charging time: 120 minutes
Control distance: 100 to 150 meters
Transmitter power: 4 AA batteries (not included)
Under the X102H's belly is attached a fixed gimbal which can mount a GoPro or any other action cam of similar size such as the SJCAM SJ4000. When not in use, the camera can be detached.
For a humble toy quadcopter that costs less than $200, the X102H actually has some very neat features in its gimbal. To be honest, I think the X102H gimbal is so well designed that it puts the Syma X8HG gimbal to shame. For one, the gimbal features four rubber dampers that greatly reduce vibration.
Since these rubber dampers are fragile and can get easily ripped off in a crash, MJX have secured the lower platform of the gimbal with two screws. These screws do not actually tighten the platform. Instead, they allow the lower platform to sway by a few millimeters in any direction to allow the rubber dampers to absorb shock and vibration while preventing the lower platform from getting ripped off.
This is a very simple yet smart design approach in securing the lower platform while allowing the dampers to work without the risk of getting them overstretched or damaged. The Syma X8HG, on the other hand, features a fixed gimbal without any rubber dampers. Third party gimbals with rubber dampers for the X8HG are available online but they are not as well designed as MJX's.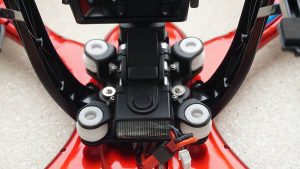 The lower platform was also designed to double as the battery bay. The added mass of the battery on the lower platform greatly increases its inertia, making the platform even more resistant to vibration generated by the quadcopter's motors and propellers. Attaching the battery on the gimbal as opposed to inside the fuselage also gives it plenty of ventilation and keeps it cool. This approach creates a leaner and less bloated fuselage.
The gimbal, however, does have a flaw — the release button that is used to remove the camera mount doesn't quite work. Attaching the mount onto the gimbal is easy but removing it can be a bit tricky. This involves pressing the release lever much closer to the retaining ridge which prevents the mount from sliding off. It took me a while before I became efficient at doing this.
Flight Performance
In the air, the X102H is as impressive as it looks thanks to its inverted motors. I definitely felt a bit more reserve power compared to the Syma X8W which has the same propulsion as the X8G and X8HG. The inverted motors certainly give it the edge and extra power it needs in windy conditions.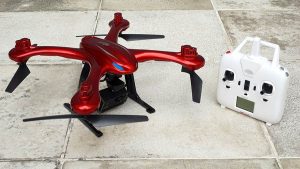 Being a 360-size quadcopter that can lift an action cam, the X102H flies somewhat similar to brushless quads of similar size such as the XK X380 although it is not exactly in the same ballpark. Its size means it is a lot more stable in the air compared to smaller toy quadcopters with altitude hold doing a great job in keeping things stable (in calm flying conditions).
Altitude hold is a feature that has pros and cons. If you're not familiar with it, I suggest reading this article first if you intend to fly above 20 meters.
The X102H also features headless mode and one key return. Two flight speeds are available (high and low) for handling different flying conditions.
High speed mode unleashes the beast in the X102H and is great if you intend to use it for sport flying. All you need to do is remove the camera and it will impress. For aerial photography or videos, low speed mode is the better way to get steady shots.
Budget Aerial Photography Platform
As an aerial photography platform, the X102H is decent for a toy quadcopter. Although it is nowhere as good as drones that feature motorized gimbals, its fixed gimbal does a much better job in cancelling out jello compared to other fixed gimbals that do not have rubber dampers.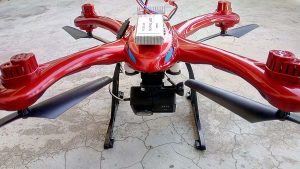 The sample X102H in this review was paired to a SJ4000 clone and a 5.8G FPV system that consisted of a 600mW video transmitter, mushroom antenna and a 7.4V 700mAh Li Po battery. Although it is possible to fly it with a Wifi-enabled camera such as the SJ4000 WiFi, I wouldn't recommend doing so since a WiFi camera transmits on the 2.4GHz frequency which is the control frequency of the X102H.
A WiFi camera, or any WiFi router for that matter, can interfere with a drone's 2.4GHz control signal in strange and mysterious ways that only Deepak Chopra can explain.
Technically, you can still fly the X102H without a video downlink from the attached camera but that would make framing shots very difficult. The 5.8G setup featured here doesn't just add an extra 150 grams of weight to the X102H, it also gives me peace of mind and a much better and stable video downlink for framing shots.
Getting smooth videos on the X102H is something that requires a lot of practice and a good feel of the control sticks. It also helps if you fly in calm weather conditions as strong winds can really ruin your videos. Trying to shoot good videos with the X102H is certainly a lot more challenging compared to drones with motorized gimbals but then this is what you'd expect from a sub-$200 toy quadcopter.
Altitude Hold Issues
Although the X102H is a decent toy-grade aerial photography drone, it is only safe to fly at an altitude of less than 20 meters. If you've read the accompanying article mentioned above, you'll understand why. Flying the X102H above 20 meters can be a pretty risky thing to do as any sort of wind can easily cause serious control problems which could result in a fly away or crash.
Pilots who intend to fly the X102H at altitudes of 30 to 150 meters will certainly find this weakness a big disappointment. A drone capable of lifting a GoPro is seriously handicapped if it cannot safely fly higher than 20 meters.
Conclusion
As a sub-$200 GoPro-lifter, the MJX X102H is a great alternative to the Syma X8G and X8HG. It comes with a very well-designed fixed gimbal that can mount a GoPro or any action cam with similar dimensions such as the SJ4000. The gimbal also comes with rubber dampers that do a good job in filtering out vibrations.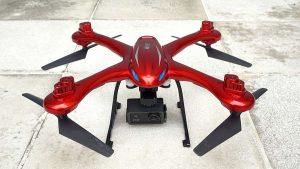 The X102H's sporty looks and inverted motors gives it the edge over many of its rivals where looks are concerned. Altitude hold helps a lot when taking aerial videos and photos but this feature is only as good as the flying conditions you are flying in. With a GoPro mounted, many pilots will be tempted to fly between 30 and 100 meters or even higher. Such altitudes can be a bit tricky to handle especially when strong wind currents are present.
Since the X102H does not come with more powerful brushless motors and features altitude hold, flying high (above 20 meters) against strong winds can be very tricky and is something I don't recommend. The X102H could have scored higher in this review if it wasn't because of its altitude handicap.
Under the right flying conditions and with good piloting skills, the X102H can really impress as a budget aerial photography platform. Although its ability in aerial photography is limited by its fixed gimbal and altitude handicap, it is still quite capable of producing some decent footage and images if you fully understand its capabilities and know how to work efficiently within its limits.