If you're an avid aerial film-maker, make sure you mark these dates on your calendar — August 19th and 20th. That's when DroneUp's inaugural International Film Festival (IFF) will be held in Plovdiv, Bulgaria.
IFF 2016 promises to feature the coolest and most amazing footage shot by drones from around the world with the idea of creating awareness of drones as film-making tools and encouraging their creative use. It will also serve as a platform where drone professionals, companies and enthusiasts can come together to exchange ideas and experiences in the art of aerial film-making.
The contest is divided into 6 categories — Nature, Urban, Culture and Sport, Travel, Extreme and Wild and Narrative and Cinematic. All entries will be judged by an Oscar-nominated jury and winners will be awarded cash prizes totaling more than 10,000 Euros.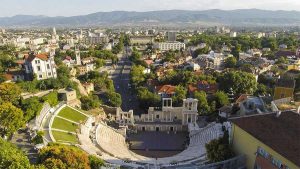 IFF 2016 will be held at Plovdiv's historical Roman Stadium.
So far, filmmakers from over 30 countries have confirmed their participation. Shortlisted participants will be presenting their work in front of a live audience of over 2,000 people in Plovdiv's historical Roman Stadium as they compete for prizes in the contest.
IFF 2016 will be held over two nights of drone film screenings and award presentations in the open air environment of the stadium (let's hope it doesn't rain). Spectators will be given free entry.