What do you do when you're tasked to film the 2017 Nissan GT-R on a racetrack but couldn't find an aerial photography drone that can keep up with Godzilla? Well, the answer is pretty simple — you build one!
This is exactly what Nissan did with its GT-R Drone — named after the super car it was designed to stalk. The drone is capable of hitting 60mph in just 1.3 seconds, nearly twice as fast as the actual GT-R which does it in 2.9 seconds. It also has a top speed of 115mph which, although significantly slower than the car's top speed of 196mph, is not a serious handicap since the GT-R rarely reaches its speed limit on racetracks anyway.
Achieving such breakneck speeds and acceleration does, however, come at a price — the drone is not capable of carrying a 3-axis gimbal and relies instead on a fixed mount for its camera.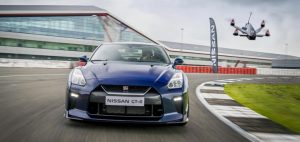 Such a top speed is not only fast for an aerial photography drone, it's mind-boggling especially when you consider the fact that most consumer drones such as the DJI Phantom 4 can only manage 44mph. The drone's top speed puts it in the same ballpark as 250-size racing drones. In fact, the GT-R Drone really is a high-end racing drone under the skin and was actually designed by World Drone Prix Champions — Tornado XBlades Racing.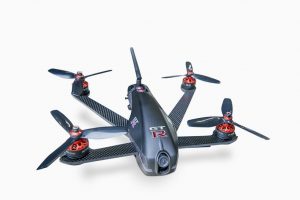 Nissan recently released a video showing the GT-R and its drone namesake ripping around a racetrack. Driving the GT-R was Nissan test driver Ricardo Sanchez while 2015 British National Drone Racing champion James Bowles piloted the drone.
Weighing only 700g, the GT-R Drone is based on a customized Anakin Club Racer carbon fiber frame by Sky Hero and is propelled by 2000kV XNova motors. Giving it an aerodynamic edge is the Anakin's low profile canopy that keeps all major components covered and secure.