Summer is coming soon and along with it, perfect conditions for outdoor flying and a whole new range of drones for sale with some really exciting features.
In this article, we've compiled a list of newly released models that fly great in outdoor environments. Of course, there are more than five new models that were released recently but we picked the ones that excited us the most. All these amazing drones can already be found in the market, all of them represent a good value for your money, they top among the best within their price range!
Let us move on to review these amazing products which will surely provide your hours of fun during this summer of 2016!
UPDATED according to new models for Summer 2016!
JJRC H28C
JJRC has been one of the most active drone manufacturers in the market recently. They have released great and affordable products. One of these amazing quadcopters is JJRC H28C, one of the very few low-cost Toy grade quadcopters to feature a modular design. Meaning you can fold H28C arms and easily fit it into a backpack. Thus making it the perfect toy quadcopter for a holiday, a day out in the park or even a road trip! JJRC H28C comes with a 2MP camera (in fact its image quality is more of a 0.3MP) and its own 1 Axis gimbal which allows it to tilt upward and downward.

As expected from all JJRC products, it has an amazing control distance of 200 meters! Above the average range of toy drones. Powered by a 7.4V 1200mAh Lipo battery JJRC H28C has a flight time between 8 to 10 minutes! On top of all this goodness, H28C also features Headless Mode (for easier control and orientation) and One-Key Return 8drone returns back to pilot).
Without a doubt JJRC H28C is one of the easiest to carry affordable quadcopters for this Summer of 2016! Get yours, fold it, put it on your backpack and you are set for your adventure! You will be able to record and take photographs while flying the quadcopter as far as 200 meters!
JJRC H26W
Another great product by JJRC, H26W is one of the most affordable FPV (real time video transmission) quadcopters currently in the market. Therefore, for all our readers looking for a First Person View experience for this Summer 2016, than I'm happy to introduce you JJRC H26W! This quadcopter includes its own 2MP camera and 2 Axis Gimbal (tilt upward, downward, right or left), allowing you to have different recording angles! FPV (real time video) transmission is done directly to your smartphone via WiFi through a free application available for both Android and iOS.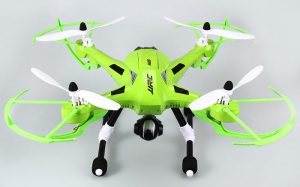 Image quality does have a slight 'jello-effect' but nothing to worry about, and considering its price cost, it's a good value for the money. Once again, and since it's a JJRC product, one of its best specifications is the control range, an astonishing 300 meters!
Way above the average control distance of quadcopters within its price range. Like H28C it also features Headless Mode for easier control and One-Key Return (returns to pilot). Powered by a 7.4 V 1.200 mAh 30C LiPo battery it has a flight time between 6 to 8 minutes.
If you are a fan of real time video transmission, JJRC H26W will be a great choice toy FPV quadcopter this summer!
Kaideng K70C Sky Warrior
Are you a fan of action sport cameras such as the widely famous GoPro? Do you own one of these cameras but are not willing to spend much money on a drone to place it on? Don't worry! We have found an amazing solution for your GoPro. Kaideng K70C is an amazingly affordable quadcopter which includes its own camera mount (anti-vibration) designed for GoPro style cameras (GoPro Hero4, Xiaomi Yi, SJCam, among others).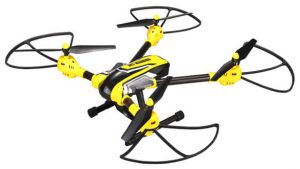 It's the perfect camera quadcopter, the gimbal is remotely controlled, allowing pilot to acquire different angles of view without having to land the quadcopter. But if you don't own a GoPro camera or similar, don't worry!
Kaideng K70C comes with its own 2MP Hawkeye 720p resolution with wide angled lens camera, good image quality camera which will satisfy casual flyers. Kaideng K70C has a lifting power of up to 500g! The coreless and direct-drive motors are very durable and will ensure a nice steep pitch enabling fast high rates.
Yaw rates can be adjusted according to pilot's skills, therefore it is a great drone for both beginners and experts. K70C has a control distance of 150 to 200 meters and a flight time of 10 minutes! Its features include Headless Mode, One-Key Return and LED arms (very cool lights) for night flights!
If you are looking for a large drone with plenty of lifting power, than Kaideng K70C SkyWarrior will be your best choice to fit your action sport camera this Summer 2016, the best bang for your buck!
JXD 509W
This Summer 2016, if you are looking for a feature-rich quadcopter for a very affordable price, you will love JXD 509W! This FPV quadcopter features one of the latest functions to be added on low-cost quadcopters.
We are talking about the Altitude Holder, a feature which looks your quadcopter at a desired height and allows it to hover autonomously while you control the right throttle and focus on recording video or taking photographs.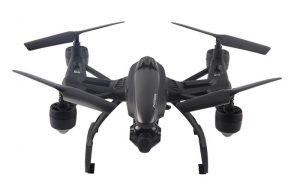 The 509W transmitter has dedicated buttons for "headless" mode and "one key return".
Other awesome features are the Automatic Landing (drone will land itself) and also the already common Headless Mode and One-Key Return. If you love messing around with new features but you don't have much money to spend this Summer, JXD 509W from Pioneer is your best choice.
On top of all the great features, it includes its own 0.3MP FPV camera which will transmit live video directly to your smartphone via Wifi. If you wish to learn more about this rich-feature but affordable quadcopter please check our in-depth review.
DJI Phantom 4
If you have a bit more money to spend this Summer 2016 you will be happy to know that DJI has already released the upgraded version of their most famous model the Phantom.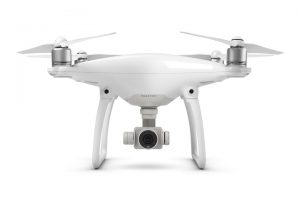 Introducing the DJI Phantom 4, a fully autonomous quadcopter featuring: Obstacle sensors (to automatically avoid obstacles during flight thus preventing crashes and hits); TapFly (with a motion of your finger on your tablet Phantom 4 will fly on that direction); Visual Tracking (lock a moving object and drone will follow it) Smart Return Home, Dual Satellite Positioning System, Vision Positioning System and of course Auto-Pilot. DJI Phantom 4 is one of the best quadcopters currently in the market, capable of pretty much anything, extremely easy to fly.
DJI phantom 4 includes its own 4K camera (manufactured by DJi itself)! Its arms are easily folded thus reducing the size of the quadcopter enabling it to easily fit a backpack (a new feature of this model). Phantom 4 features all the best and latest drone technology. It has an astonishing and unseen control range of 3.5 to 5km and an amazing flight time of 28 minutes!
If you have the money, DJI Phantom 4 is definitely your best choice, you won't regret owning one of these powerful sky beasts. With a DJI Phantom 4 you will get the most of your Summer 2016 and you will have the best quality videos and photos to remember it!
Five amazing quadcopters for this upcoming Summer! Capture all your best moments in video and photos, create memories, and own the sky! All of these products represent the best value for your money among their price ranges. Tell us what you think on the comment section below and don't forget to bookmark our page for more amazing guides such as this!