The JJRC H8C (also known as the DFD F183) has become one of JJRC's most popular mini quadcopters since it was released at the end of last year. This is a beginner quadcopter that was specifically designed to compete with the highly popular Syma X5C which has been around for some time.
At first glance, you'll notice that the 6-axis H8C has a more exciting exterior design. This is especially true with the black version which has fluorescent green and silver livery that gives it a more racy look compared to the white Syma X5C which is beginning to look a bit dated. The H8C also has LED strips on all four corners of its main body, similar to the X5C.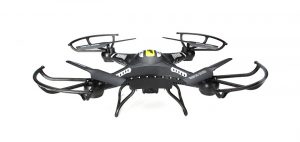 If you're already familiar with flying the X5C, you'll notice that the H8C has a lot more power in its motors which makes it more responsive and accurate to fly. This is mainly due to more powerful motors in the H8C which run at 7.4V compared to the 3.2V ones in the X5C and other similar models. Although they provide more thrust and reserve power, these powerful motors do have their drawbacks which I will explain later.
Specifications
Size: 240mm (diagonal)
Body size: 200 x 200 x 50mm (without propellers)
Weight: About 144g (with battery and camera/without prop guards)
Color: White, Black
Control distance: About 80m
Charging time: About 90mins
Flight time: 6 to 8mins
Battery: 7.4V 500mAh
Battery Dimension: 46*11*45mm
Battery weight: 23.3g
The H8C costs approximately $68 and is shipped with propeller guards, card reader, a spare set of propellers and a 2MP 720P HD camera that comes with a 2GB micro SD card. The transmitter is the same type that comes with many other JJRC mini quadcopters such as the F180.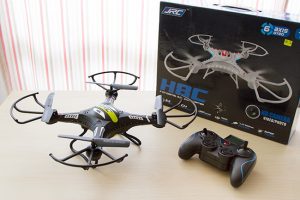 One nice feature that the H8C has that is missing from smaller quadcopters is a power switch. In smaller models such as the F180, turning on the quad means connecting the battery plug. On the H8C, there is no need for connecting and disconnecting batteries thanks to the power switch.
With a diagonal motor size of 240mm, the H8C can be flown both indoors and outdoors. Although it's not impossible to fly indoors, its size can be a bit of a problem especially if you live in a small apartment. When flown outdoors, the H8C can hold steady in winds of up to 5km/h. In winds of at least 10km/h or faster, it starts to struggle unless you fly it at 100% gyro sensitivity which I do not recommend since this can wear down your motors fast.

The H8C has some cool LED lights. The body has a strong resemblance to the Cheerson CX-20.
Transmitter
The H8C comes with a 2.4GHz 4-channel transmitter that has a mini LCD screen for displaying information such as throttle position, flight modes, battery power, radio reception and throttle trim. Binding the transmitter to the H8C is as simple as powering the quad up, turning on the transmitter and then moving the left throttle stick up and down. Before turning on the transmitter, the H8C's LED lights will start blinking initially, indicating that it is ready to bind. Once binding is done, the LEDs will stop blinking.
A button on the upper left of the transmitter lets you toggle between 4 difficulty modes – 25%, 50%, 75% and 100%. At 25%, the H8C flies conservatively and is easier to control — a setting that's ideal for beginners. At 100% it becomes more responsive and flies more aggressively.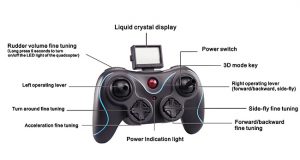 The button on the upper right is the dedicated "stunt" button. Press this button when the H8C is flying and the transmitter will start beeping indicating the H8C is ready to perform a flip. To perform a flip, move the right stick in any direction while you hear the beeping and the H8C will flip in the direction you choose. For example, if you move your right stick up, the H8C will perform a forward flip and vice versa.
The control pad on the lower right is the aileron/elevator (right stick) trim while the lower left control pad is the throttle/rudder (left stick) trim. The lower left control pad can also be used to control the camera. Press down on the control pad to turn video recording on or off. To take photos, press the up button.
Camera
The H8C comes with a 2MP HD 720P camera that can record both video and stills on the included 2GB micro SD card. The camera is capable of supporting up to 4GB cards and is touted by JJRC as having better image quality than the X5C's camera. I haven't done any real comparisons between the image quality of these two cameras, but I seriously doubt anyone who owns a sub $100 mini quadcopter has any intention of doing serious aerial photography with it.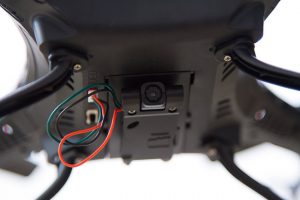 The H8C comes with a 720P HD camera that is capable of taking 2MP stills.
Premature Motor Failure
On paper, the H8C looks like it trumps the X5C in almost every key detail including flight time, weight and motor power and not to forget, a better-looking body. But in their haste to create a X5C killer, JJRC had forgotten to beef up on the H8C's motors to handle the more powerful 7.4V battery which provides twice as much current as the X5C's 3.2V battery.
Although the H8C's motors are listed as slightly bigger at 0820 compared to the X5C's 0720-sized motors, they are still not big enough to handle the extra current. Just months after it started shipping, a significant number of H8C owners started reporting premature motor failure with some experiencing their first motor failure as early as their third flight. Many more have experienced the same problem in less than 12 flights. The problem is so bad that a thread specially dedicated to the H8C's motor failure problem has been created at the RCGroup forum for owners to share their experiences.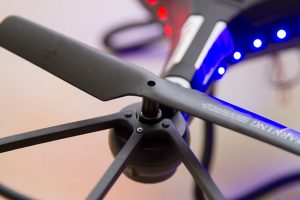 The motors on the H8C are its weakest link.
However, all's not lost with the H8C. It is still possible to own and fly one without wearing off the motors prematurely. It is also important to note that most cases of premature motor failure are the result of aggressive flying which generate a lot of heat in the motors, hence one way to prevent the motors from over-heating is to simply fly the H8C at no more than 50% gyro sensitivity.
Owners have also resorted to replacing the stock bushing rings that hold the propeller shafts in place with ball bearings to reduce heat generated when the shafts are spinning. The bearings used are the ones that are specifically used by the WL Toys Skylark V636. Some owners have even applied lubricant on the propeller shafts and gearing to further reduce heat and friction.
Conclusion
Like any other beginner quadcopter that costs less than $200, the JJRC H8C isn't perfect and you shouldn't expect it to perform or last as long as a quadcopter that costs over $800. As you have already realized by now, premature motor failure is the H8C's Achilles Heel. When purchasing cheap quadcopters that lack any real R&D, issues such as this can be a problem. It's very obvious that JJRC did not perform any long term tests with the H8C prior to releasing it.
To stave off premature motor failure, you need to fly the H8C at 25% or 50% gyro sensitivity to rein in all that extra current. Flying the H8C at maximum power while doing flips in windy outdoor conditions might be fun but you'll probably see your first motor failure within about a dozen flights. Fortunately, H8C motors come at an affordable price of $4 each and can be ordered at Banggood at this link.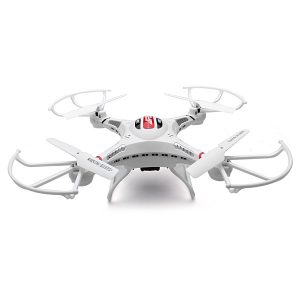 The H8C is also available in white.
Unlike some mini quadcopters that cost over $60, the H8C does not come with ball bearings for its propeller shafts. Instead, it comes with cheap metal bushings that tend to produce a lot of heat due to friction. The power connector can also be an issue due to its rarity which makes it incompatible with other spare batteries that you might have lying around.
Other than these issues, the H8C is actually quite a solid mini quadcopter for beginners. If you wish to purchase one, it is advisable to buy some spare motors and a set of ball bearings to reduce heat generated by the propeller shafts.