The JJRC F180 (sometimes known as the DFD F180) is a 6-axis micro quadcopter that's aimed at beginners or simply anyone who wants to experience flying a quadcopter without spending a fortune. It's also one of the smallest and most affordable quads produced by JJRC. At first glance, you'll notice glaring similarities with the popular Hubsan X4 — from motor and propeller size down to its body dimensions. This makes many wonder if the F180 is actually an X4 clone. Despite these similarities, the F180 is still unique in some ways, mainly in how it flies.
Weighing in at 38g with battery and prop guards, the F180 is the type of micro quadcopter you buy mainly for flying indoors although it is capable of flying outdoors in calm weather. The F180 is also an ideal quad for those who have larger drones but want a smaller one for training purposes to improving their piloting skills.
JJRC F180
Being so light and with its flexible prop guards, the F180 is the type of quad you can crash over and over again without ever worrying of seriously damaging it. I've crashed mine from heights of 3 to 4 meters without any scratches or dents. Crash it as much as you wish to improve your piloting skills so the $1,000 drone that you spent months saving for does not have to endure all those mistakes you have to go through in your learning curve as a drone pilot.
JJRC F180
Even if you're not looking for a trainer drone, the F180 can still be a fun toy to fly since it can move around in tight spaces and perform 360-degree flips in any direction thanks to its 6-axis gyro.
The F180 is also available with a 2MP 720P HD camera in the form of the JJRC H6C which is available at about $50 at Amazon.
Specifications:
Main Rotor Diameter: 5.8 cm
Radio Channels: 4
Flight time: about 7 minutes (with prop guards), about 8 minutes (without prop guards)
Body Material: Plastic
Control Mode: 2.4GHz
Control distance: up to 100m
Battery: 3.7V 300mAh Li-Po
Remote Control Battery: 4 x 1.5V AA Batteries
Charging Time: about 45 minutes
Suitable for: Ages 14+
Dimensions: (13.5 x 13.5 x 3.5)cm (L x W x H)
For less than $40 with shipping, the F180 quadcopter comes with flexible prop guards, radio transmitter with mini LCD screen, a spare set of propellers, 1 battery, a set of motor stubs and USB charger.
JJRC F180
The F180 is available in 3 colors – black with red trim, gold and black with blue trim.
Transmitter
Unlike most quadcopters in the sub-$50 category, the F180 comes with a 2.4GHz 4-channel transmitter that has a mini LCD screen for displaying information such as throttle position, flight modes, battery power, radio reception and throttle trim. This is a nice feature to have and sets it apart from other quads in its class. The transmitter is also compatible with other X4 clones.
Binding the transmitter to the F180 is as simple as powering the quad up by connecting its battery cable, turning on the transmitter and then moving the left throttle stick up and down. Before turning on the transmitter, the F180's LED lights will start blinking initially, indicating that it is ready to bind. Once binding is done, the LEDs will stop blinking.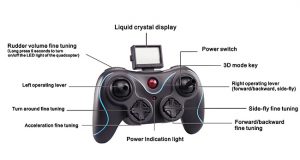 A button on the upper left of the transmitter lets you toggle between 4 difficulty modes – 25%, 50%, 75% and 100%. At 25%, the F180 flies conservatively and is easier to control — a setting that's ideal for beginners. At 100% it becomes more responsive and flies more aggressively.
The button on the upper right is the dedicated "stunt" button. Press this button when the F180 is flying and the transmitter will start beeping indicating the F180 is ready to perform a flip. To perform a flip, move the right stick in any direction while you hear the beeping and the F180 will flip in the direction you choose. For example, if you move your right stick up, the F180 will perform a forward flip and vice versa.
The control pad on the lower right is the aileron/elevator (right stick) trim while the lower left control pad is the throttle/rudder (left stick) trim.
How it flies
Overall, the F180 is easy to fly and is quite stable in the air. It has a yaw rate that is faster than other models in its class and has a unique way of doing flips. Unlike most other micro quadcopters that flip like pancakes, the F180 lunges in the direction it is being flipped. So if you make it flip forward, it will lunge forward like a hungry spider pouncing on its prey. This unique way of flipping is something you will get used to quickly. Just remember to provide the F180 with enough space when performing a flip or else it might slam itself against a wall or some stationary object.
The flexible prop guards on the F180 provide very good protection not only for the propellers but also for the entire quad. You can crash the F180 hard in any direction and it will come away literary unscathed, probably with only a few minor nicks on its propellers.
The motors on the F180 are not as noisy as other similar-sized quads which can sometimes get quite loud. I like the way it sounds — not too noisy with a nice buzz.
Below is a short F180 review and test flight I found on YouTube.
Conclusion
If you're looking for an X4 clone with a difference, the JJRC F180 might just fit the bill. It's a nice mini quadcopter that's easy to fly and is reasonably stable and provides thrills when you need them in the form of lunging 360 flips that are unique to the F180. The mini LCD screen on its transmitter also gives it the edge over other quads in the same price range and is a nice feature to have.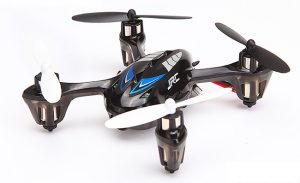 The F180 is a quad that was built to take a lot of abuse, thanks to its flexible prop guard which also doubles as a protective cage for the entire quad. You can fly the F180 over and over again without worrying that a crash might seriously damage it. The propellers might get damaged due to extremely hard crashes but they are very affordable and easy to replace.
For those looking to get their first quadcopter, I'd recommend the JJRC F180. It may not have all the bells and whistles that a Phantom 2 may have but it is so much less intimidating to fly and best of all, inexpensive to crash.