After facing endless rounds of red tape in the US, Amazon is now conducting extensive testing of its delivery drones at British Columbia, Canada. According to The Guardian, the e-commerce giant decided to focus its testing program in Canada following repeated warnings that stringent aviation regulations in the US were impeding on its efforts to launch its drone delivery service there.
Amazon has so far been tight-lipped about its testing location in Canada where it currently has a large team of engineers and experts operating. Its Canadian testing program has drones of less than 55lbs flying between 200ft to 500ft above ground, carrying packages up to 5lbs and flying at speeds of up to 50mph. Packages of 5lbs or less make up roughly 86% of Amazon's orders and the company hopes to deliver these packages within 30 minutes of ordering to customers who live within the service range of its warehouses via its drone delivery program — Prime Air.
Although the Federal Aviation Administration (FAA) had granted Amazon permission to conduct experimental testing of its drones in the US, the company says that decision had come too late and the drone design which it had submitted along with its application is now outdated, having been replaced by newer and better designs. The "experimental airworthiness certificate" which was granted by the FAA only allows the company to fly a specific drone design that has been approved. The process of granting the certificate itself took several months.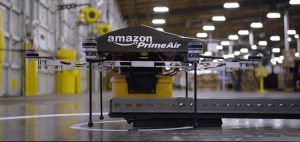 An outdated drone design that had been used my Amazon earlier in its testing program.
An outdated drone design that had been used my Amazon earlier in its testing program (Photo by Amazon).
In contrast, the license required by Amazon to test its drones in Canada took only 3 weeks to approve. The company now conducts frequent testing of its drones over a plot of land it had purchased just 2,000ft from the US border.
Prior to opening its Canadian test site, Amazon had been conducting indoor tests at its Seattle facility as well as at other research posts in the UK and Israel. Requests by Amazon to begin outdoor testing in Washington state have so far been unsuccessful thanks to federal regulators. Just last week, Amazon's vice-president for global public policy Paul Misener spoke before a US Senate subcommittee and warned that the US may lose its edge in aviation development if federal regulators continued to hamper the development of the company's drone delivery service.
While stringent aviation regulations in the US continue to show no signs of slacking, more outdoor facilities for testing and developing drone technology have sprung up in other countries. In Alberta, an area covering 700 square nautical miles of restricted airspace has already been dedicated to the testing of drones that fly beyond line of sight. A similar facility is also being opened in Europe.