Selfie drones have really taken off this year with the DJI Spark leading the way in the premium segment and with dozens of toy drone manufacturers following suit in the sub-$100 segment. And now Parrot becomes one of the latest brands to release a selfie drone with its new Bebop 2 Power.
Almost every detail in the new Bebop's spec sheet takes aim at the Spark including its $600 price tag. The Bebop 2 Power also features a similar size to the Spark and comes with the Sky Controller 2 which allows for an extended control range of up to 2km.
Parrot Bebop 2 Power Highlights
14MP WiFi FPV camera
HD 720P FPV transmission up to 2km
In-camera digital image stabilizer (3 axis)
Flight features:
Sport and Video flight modes
GPS + GLONASS positioning
Locate My Bebop
Return Home
Geofence
Follow Me (Visual and GPS)
360 panorama shots
Dronie / Selfie features: Orbit, Tornado, Parabola, Boomerang
Cockpitglasses 2 for immersive FPV flying (smartphone required)
Sky Controller 2 for extended control range (up to 2km)
65km/h top speed
Accompanying Freeflight Pro app for controlling advanced flight features and automation
Up to 30 minutes flight time
Bebop 2 FPV backpack (Adventurer Pack only)
The Power is currently available in two different kits on Amazon — the Base FPV Bundle which features one Parrot Bebop 2 Power drone, battery, Cockpitglasses 2 and Sky Controller 2 along with standard accessories such as a charger. The base bundle costs $499. There is also the Adventurer Pack that is available for $579.99. This includes everything in the Base Bundle but with the Bebop 2 FPV backpack (worth $99.99) thrown in.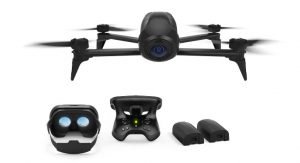 At the heart of the Power is its WiFi FPV camera which features a wide angle lens with 14MP resolution capable of shooting HD 720P videos at 30fps. The camera records stills in JPEG and also in Adobe DNG RAW for post-production image editing.
To counter camera shake and vibrations, the Power uses a 3-axis in-camera digital image stabilizer. Though Parrot's digital stabilization technology works rather well, as seen in earlier Parrot camera drones, it is not as superior as systems that use mechanical gimbals such as the 2-axis camera gimbal on the DJI Spark. With in-camera systems, stabilization is achieved by cropping the image in real time which effectively reduces image quality depending on how bad the shake or vibration. The good thing about in-camera systems is that they are a lot more compact, lighter and use less power since no mechanical gimbal is present.
The flight features on the Bebop 2 Power cater to a wide range of users from fast-flying FPV pilots looking to do some casual FPV flying to those interested in taking good selfies and aerial imagery. With a top speed of 65km/h, the Power has just enough speed to thrill the casual sport flier.
To make FPV flying more immersive, the Power comes with the Cockpitglasses 2 which works like a VR headset. Your smartphone is installed on the glasses and act as the FPV screen so you can see what the drone's camera is seeing.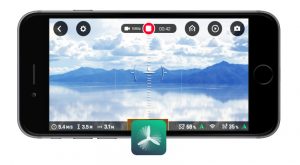 The Power also has GPS + GLONASS positioning, making all semi-automated flight modes easy to operate. GPS is used in a number of important features such as Return Home and Locate My Bebop. The Power also has Geofencing which lets you set an airspace boundary which greatly helps in preventing flyaways. Despite all these cool features, the Bebop 2 Power is still slightly behind the Spark lacking features such as the Spark's obstacle avoidance and Vision System. The Power is also available only in dark gray while the Spark has multiple color options for its canopy.
Despite this, Parrot does have a serious contender here to rival the DJI Spark. It has just the right price and the right set of features. Whether it will be successful really depends on the reliability of the drone, its accompanying app and firmware. If Parrot has done its homework and come up with a highly reliable product in the the Bebop 2 Power then there is reason for DJI to start worrying.
The DJI Go app which is used in conjunction with numerous DJI products such as the Spark is known to have issues with the most recent debacle involving DJI Sparks crashing or flying away.