UDI is a company that has released some pretty interesting toy drones in the past year with a flair for aesthetics that sets it apart from other brands.
However, despite having released some very good toy drones such as the U32 and U28, the brand is still synonymous with the older U818A which was released two years ago.
Since it was released, the humble U818A has made its mark in the toy drone scene as being one of the toughest toy drones around with plenty of value to boot.
It is not surprising why many online sellers still stock the U818A because it sells so well and for good reasons — it was build to withstand plenty of abuse, flies reasonably well and costs less than $60 shipped.
Due to its integrated prop guards, the U818A also makes an excellent toy for children and is much safer to fly around people compared to other toy drones with fully exposed propellers. The U818A featured in this review is the upgraded version that comes with a HD 720P camera (hence, the name U818A HD) and was kindly sponsored by RCMoment.
Specifications
Dimensions: 330 x 340 x 55mm
Platform: Quadcopter
Diagonal motor distance: 230mm
Flight features:
One-key return
Headless mode
3D flips
2 flight speeds (High and Low)
Propulsion: 8.5mm coreless (motors) / 135mm propellers
Weight: 131g (with battery)
Camera resolution: 1MP stills and video (1280 x 720 / 32kHz mono audio)
File format: JPEG/AVI
Battery: 3.7V 500mAh Li Po
Charging time: 80 minutes
Flight time: about 8-10 minutes
Control distance: about 50 to 100 meters
Transmitter power: 4 AAA batteries (not included)
I'm not quite sure what went through the minds of the people at UDI when they designed the U818A — whether they wanted to produce a four-hole Frisbee that could withstand abuse from 8-year-old kids or a toy quadcopter for children and adults. With the 818A, it seems they were aiming for both.
Built for Abuse
In your hands, the U818A actually feels quite flimsy. Its entire body and prop guards are made from very thin plastic which help save a lot of weight and allows the drone to absorb impact very well.
In fact, the plastic is so thin it measures a mere 0.75mm thick at most parts and makes the U818A feel like it was pieced together with transparency slides. But don't let that flimsiness fool you, though. This is one drone that can take so much abuse, you'd be surprised at how resilient it is.
One of my favorite U818A abuse videos is the one made by Gobelus — a German RC store.
As can be seen in the video, the U818A is put through all sorts of abuse which includes crumpling up its prop guards and 360-degree twisting of its motor arms yet it refuses to give in and continues to fly.
If you have any doubts about the U818A's durability, this video simply puts all your doubts to rest. The only thing I believe the U818A cannot resist is excessive exposure to moisture. Thanks to its integrated prop guards and high tolerance for abuse, this is one toy drone that is suitable for both adults and children.
Its prop guards make it so much more safer for children to fly when compared to other toy drones such as the Syma X5HW that has prop guards with less coverage and a harder body shell that can break if enough force is applied.
Flight Performance
The U818A is very easy to pilot and reasonably stable in the air despite having integrated prop guards. Two speed modes are available — Mode 1 (Low) and Mode 2 (High). These shouldn't be confused with Mode 1 and 2 transmitter stick modes.
Being a drone that was released some two years ago, the U818A does not have altitude hold and features only headless mode and one-key return. It can also do 3D flips which are executed quite well. Having integrated prop guards means it is quite susceptible to wind currents. For those who find the prop guards a hindrance, they can be removed along with the entire body shell. This creates for a lighter and more agile quadcopter. Removing the prop guards and body shell also makes for slightly longer flight times.
The U818A comes equipped with a small LED searchlight at its front which is turned on when you're flying it with headless mode turned off. Turning headless mode on turns off this LED light. It also comes with blue (front) and red (rear) LED lights to help out in orientation.
One thing I like about UDI products is that they usually come with an extra battery. The U818A comes shipped with two 3.7V 500mAh batteries that provide a flight time of about 8 to 10 minutes per battery with a charging time of a little over an hour.
Camera
When it was first released, the U818A came with a camera that had a much lower resolution. To keep up with the times, UDI have given it a better HD 720P camera which produces 1280 x 720 resolution videos and images. It is a step up in resolution when compared to other toy drones in the same price range that feature 0.3MP cameras.
Image quality is about the same as other camera drones in this price range. With the U818A, there is no FPV and all images and videos are stored on the camera's memory card. Below is a sample gallery of images.
Conclusion
The U818A may have been around for some time but it still packs a good punch when it comes to value. It does not have the latest features in toy drones such as altitude hold and auto take-off/landing but I believe most people can live with its basic set of features, particularly those who prefer to have more manual control over their drones.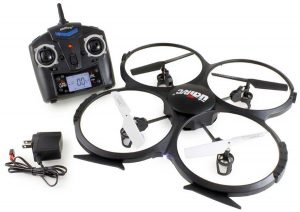 Its durability also makes it an excellent toy drone for both adults and children. With an upgraded camera that now features HD 720P, the U818A looks set to stay on in the sub-$60 segment as one of the most popular models around for a while more.