DJI has unveiled the much-anticipated update to its popular Phantom line of quadcopters — the Phantom 4, at an event in New York yesterday.
The new Phantom appears to be the most intelligent one to date in the lineup, with features such as obstacle avoidance, object tracking, Smart Return Home and an improved Optimized Vision Positioning System capable of sensing the ground below at distances of up to 10m.
Flight time has also improved by roughly 25% over the Phantom 3 with the introduction of a new smart battery. The new Phantom can fly for about 28 minutes with a control range of 5km. Video downlink can also be viewed up to 5km at a resolution of 720p.
Exterior-wise, the Phantom 4 still retains the x-shape quadcopter body of its predecessor, albeit in a more polished and refined appearance.
The body shell is made out of composite material and has a glossy white finishing ala Storm Trooper-style with subtle nuances such as holes for its obstacle avoidance sensors and air vents at the bottom.
Phantom 4 Key Features
Avoid obstacles automatically.
Track moving subjects automatically using ActiveTrack.
TapFly lets you fly with a tap of the finger.
Smart Return Home allows the Phantom to avoid obstacles as it returns home.
28 minute maximum flight time, maximum control range of 3.1mi (5km).
Maximum speed of 44mph (72kmh).
Integrated gimbal for greater camera stability and smoother footage.
Optimized Vision Positioning System raises positioning altitude up to 10 meters.
The 3-axis camera gimbal system has also undergone a redesign and now features a higher level of integration with the gimbal controller now sitting inside the body instead of underneath it. This approach gives the gimbal better protection during crashes and a cleaner overall look for the Phantom 4.
The latest DJI Phantom 4 is equipped with obstacle avoidance technology.
The camera is capable of shooting 4K video at 30fps and full 1080p HD video at up to 120fps with a field-of-view (FOV) of 94 degrees. DJI claims the camera now sports a redesigned lens consisting of 8 elements that produces sharper images with distortion reduced by 36% and chromatic aberration by 56% when compared to the camera on the Phantom 3. By photography standards, these are some pretty big improvements.
The camera is also capable of taking 12MP Adobe DNG RAW images and videos in D-Log and Cine-D profiles making the Phantom 4 a great entry-level choice for professional aerial photographers who want some level of post-processing freedom with their videos or images.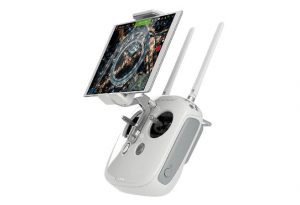 Debuting in the Phantom 4 is the TapFly feature which allows users to navigate the drone by simply tapping on the screen. This allows the Phantom 4 to fly to a spot chosen by the user while avoiding obstacles along the way — a great way to automatically fly your drone if you're tired of doing it manually.
Another new exciting feature in the Phantom 4 is ActiveTrack which allows users to select a moving object on their screens for the Phantom 4 to follow. This is a neat feature to have if you're filming outdoor activities such as cycling or motorsports.
Although this feature isn't exactly new (we've seen it in the Yuneec Typhoon Q500 4K as early as last year), the Phantom 4 tracks objects visually via its camera without any need for a GPS device on the object itself. This makes it possible to track birds or other wildlife such as elephants making the Phantom 4's ActiveTrack capabilities simply a class above the competition.
Overall, the Phantom 4 is smarter and better in many ways than its predecessor. It also looks a lot more refined as well. The only thing that could prohibit some users from buying it is its price tag. At $1399, it isn't exactly very affordable and considering that consumer drones generally shed 30% of their value in the first year alone, the Phantom 4 may not be a feasible purchase for some.
Unless, of course, you have a fat bank account or don't mind losing that much money just to have the latest DJI tech or if you're very confident of earning a good income out of it. For those who can live without features such as TapFly, Obstacle Avoidance and ActiveTrack, the Phantom 3 Professional is still available at a much more affordable $999 and is still a relatively decent aerial photography platform.
For those who absolutely must have the Phantom 4 and its latest smart features, it is now available for purchase at the DJI Store.