There are rumors circulating within the UAV industry lately that Xiaomi is currently working on developing its own drone and plans to release it some time this year.
According to a Chinese tech website, a patent filed in China last August has hints on what's coming from the Chinese smartphone giant.
Xiaomi's patent application indicates that the company plans to use the Mi Band and its built-in accelerometer as a device to control the new drone. The Beijing-based company will not be developing the drone on its own but instead has invested in a smaller firm called Flymi to focus on developing the product.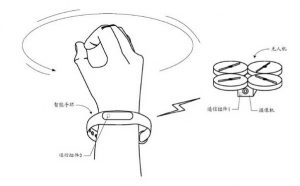 A sketch from Xiaomi's patent application showing the Mi Band as a drone control device.
Some industry insiders claim that Xiaomi was very close to releasing its drone at the end of last year but stopped short of doing so due to the striking resemblance it had with DJI's latest Phantom quadcopter.
Other sources speculate that the drone will have a camera and is expected to cost around $109, staying true to the Xiaomi spirit of producing high quality products that sell at razor-thin profit margins.
This of course translates to plenty of excitement for UAV enthusiasts. Having a Xiaomi drone in the market will certainly bring drone prices tumbling down.