If you spent money on a Yuneec Q500 or DJI Phantom 2 Vision+ earlier this year, you'd be pulling your hair when you read this news. The long-awaited Hubsan X4 Pro H109S — the quadcopter that got a lot of multi-rotor enthusiasts excited when it was showcased at CES 2015, is now available for pre-order at major sites like Amazon, BH Photo and Ebay. Now considering that the X4 Pro is going to sell for less than $1300 with shipping, you can understand why anyone who bought the Q500 or P2V+ would feel they missed out on an irresistible deal.
For the uninitiated, the X4 Pro is a 380-size quadcopter that earned itself a significant following when it was first announced about a year ago and has specifications that puts it in the same class as the Yuneec Q500 and other similar quads. Unfortunately, due to numerous delays in its release, many who waited for the X4 Pro eventually gave up waiting and bought the Q500 instead when it started selling earlier this year. Now you can understand why patience can sometimes be rewarding.
Or is it so?
x4pro
Development in the consumer multi-rotor industry progresses at the speed of a 2300kV brushless motor so it's not surprising why the Q500 is now finding its position threatened by the new kid on the block just 3 months after it started selling. But then again, every 3 or 4 months we see a new model being released with each model becoming the rage almost instantly before getting eclipsed by another new model in just a few months.
I guess patience doesn't really matter when it comes to shopping for consumer drones, at least for the time being. In an industry that progresses so fast, it makes the smartphone industry look like a turtle, playing the waiting game probably won't pay off considering that new drones are released with such frequency.
Specifications:
Size: 30×30×20cm
Diagonal size: 38cm
Weight: 1400g
Battery: 11.1V 7000mAh 25C
Flight time : 40 minutes
Top vertical speed: 36km/h
Ascending rate: 3m/s
Camera: 13MP HD, 1080P
FPV transmission range: 1500M
FPV frame rate: 30fps
Motor: 4 brushless motors
Control range: 1500m
Channels: 10, two-way transmission
The X4 Pro marks Hubsan's first stab at the 300-size quadcopter market. Hubsan has been around for some time, producing highly popular RC models such as the X4 series mini quadcopters and RC airplanes so it's going to be pretty interesting to see if the X4 Pro can gain a following similar to its smaller siblings.
Details about the X4 Pro are still a bit murky for now and the Hubsan website only shows hyped-up marketing material with little detail apart from its basic specifications. However, based on what little information there is, the X4 Pro appears to be a very promising quad.
Some Pretty Impressive Features
The X4 Pro comes with a monster 7000mAh battery which is probably the largest battery to be shoved into a 300-size quad which should raise plenty of eyebrows (and throttle sticks). With such a large battery, Hubsan claims the X4 Pro has a flight time of about 40 minutes. If this is true then the X4 has not only the largest battery but also the longest flight time for a drone in the consumer multi-rotor category!
It's not clear if the 40 minutes flight time includes the camera gimbal system or without it. The 40 minutes claim could very well be marketing hype. My guess is that it could fly for about 35 minutes without the camera gimbal system and about 25 minutes with it which is still class-leading if this were true.
The list of impressive specs doesn't end there. The X4 Pro also boasts a parachute which makes it the first consumer drone to include one in a standard kit. Drone parachutes such as the Mars Mini are not new and they've been around for some time but they tend to be costly (around $200 to $300). So it's nice to see Hubsan include one in a sub $2,000 drone.
The X4 Pro features a parachute — the first consumer quadcopter to come with one.
Apart from these interesting features and specs, the X4 Pro appears to be similar to other 300-size consumer quadcopters in terms of dimensions, weight, motors and radio transmission range.
Flight Controller
Hubsan has not given much detail about the X4 Pro's flight controller apart from claiming that it is capable of performing waypoint navigation and other GPS features such as automatic takeoff, hover and return to launch.
The only other quad in the 300-size category that can perform waypoint navigation is the Walkera QR X350 Pro which uses an APM-based flight controller. This brings me to suspect that the X4 Pro may also be running a flight controller that uses the APM AutoPilot.
Transmitter
The X4 Pro has a pretty impressive dual frequency 10-channel transmitter that makes other transmitters in the same class look like toys. It is a lot larger than transmitters that typically come with 300-size quads and features a 4.3″ color LCD touchscreen for displaying an Android-based OS that allows you to view First-Person-View (FPV) video feed, settings, waypoints, etc. Above this screen is a smaller LCD screen that displays telemetry data.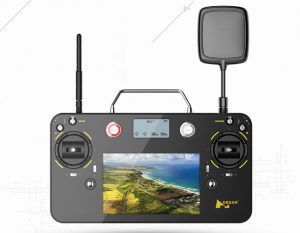 Looking at the various pre-order listings, it appears the X4 Pro might be shipped in different configurations that includes two different types of transmitters — the more expensive one described above and a cheaper trimmed down version that appears to be the same transmitter used by the Hubsan H301S Spy Hawk airplane.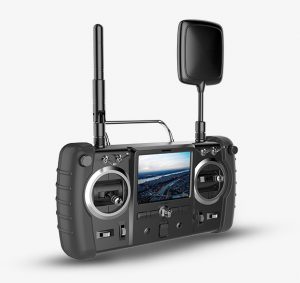 The X4 Pro's single display transmitter appears to be the same one used by the Hubsan Spy Hawk.
My guess is the more expensive dual-screen transmitter will be shipped with a kit that costs $1,300 to compete against the Q500 while the cheaper transmitter will go with a sub $1,000 kit.
Camera Gimbal System
Hubsan has chosen to include its very own 13MP HD aerial camera with the X4 Pro (It also says the X4 Pro is available in a GoPro configuration).

The X4 Pro comes with a 3-axis gimbal and 13MP HD aerial camera.
Accompanying this camera is a 3-axis gimbal system with a claimed angle sensitivity of 0.03 which is impressive considering that it is nearly as sensitive as the one on the Yuneec Q500.
Conclusion
At press time, details about the X4 Pro are still not very clear although some sellers have already started taking pre-orders. It's quite possible that some specifications might change in the next few weeks.
Rumors swirling around at RC forums indicate the X4 Pro will start shipping some time in May or June.
At least on paper, the X4 Pro currently looks like a really good buy. My guess is Hubsan will ship the X4 Pro in at least 3 different kits:
The first fully-loaded kit will include the camera gimbal system and dual-screen transmitter selling for $1,300.
The second kit is a GoPro variation of the first kit with gimbal and dual-screen transmitter at a slightly cheaper price.
The third kit has no camera gimbal system and comes with the cheaper single screen transmitter selling for below $1,000.
With an impressive gimbal angle sensitivity of 0.03 degrees, the X4 Pro will appeal to buyers looking for an affordable aerial photography platform and should be able to provide decent video stabilization in the same league as the Yuneec Q500.
Video samples taken from the X4 Pro's camera appears to be similar in quality to Walkera's iLook+ but whether these samples have been doctored or not remains to be seen.
It would be very interesting to see how the X4 Pro flies with that huge 7000mAh battery fully loaded. Based on my experience with the Walkera X350 Pro, a fully loaded 350-size quad which has a 5200mAh battery with camera and gimbal can be unwieldy, especially when flown fast.
Will the X4 Pro struggle to maneuver when fully loaded? Or has Hubsan engineered a 380-size aerial photography platform that can fly gracefully for 40 minutes with a 7000mAh battery?
Only time will tell.